ARTISTS
Main Artists
Kaoru Ikeda ( MoustacheCat Dance Artistic Director / Choreographer / Dancer )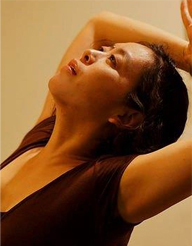 Photoshooting by Yoshio Nanakama
Dancer, choreographer and "Dancing Activist", Kaoru Ikeda, originally from Japan, graduated from Nihon University College of Art, BA and New York University Tisch School of the Arts, MFA in Dance. She has trained, performed, choreographed, and taught dance ranging from classic ballet to Butoh to modern dance. Her work has taken her to the U.S., Japan, South Korea, and Mexico where she had an artist residency in 2012 and in 2016 toured with Soliloquios y Diálogos Bailados in Mexico City for their 25th anniversary, and with 18th Muestra Internacional de Danza Oaxaca in Oaxaca. Her choreographic works have been reviewed as "perfectly realized dance" (offoffoffdance) and "moving poetry" (Eyes on Arts). As a dancer, she has worked with Gloria McLean/Lifedance, Laura Shapiro/quicksilverdance, Aviva Geismer/Drastic Action. Her international experiences have taught her that dance can cross any border and break through cultural barriers to speak to all people, no matter how different we think we are. She founded MoustacheCat Dance in 2015 to fight against prejudice through dance.
Mutsuyo Issacs ( Rehearsal Director for Freedom isn't Free / performer )
Mutsuyo Isaacs was born and raised in Kobe, Japan. At four years old, she began her ballet training at Michiko Kozuki Ballet School(Branch of Tani Momoko Ballet) and performed classic repertory. Since then, she has moved to New York, expanded her dance career, and has worked with choreographers such as Yasuko Yokoshi, Igal Perry and many others. She is currently teaching Gyrokinesis at Gyrotonic on Broadway and The Peridance center.
Shinsuke Chikata ( Performer )
Shinsuke Chikata, originally from Japan, performed in Tokyo Disney's Land & Sea Dance Troupe for 6 years. In 2007, Shinsuke moved to NYC to study dance at The Alvin Ailey School of Dance. He is a certified yoga instructor and owns a NYC-based Natural Energy Healing business.
Nana Miki ( Performer )
Born in Osaka Japan, started her career as a ballet dancer with several leading roles. After graduating from Osaka University of the Arts, She studied at the Merce Cunningham Studio. She has worked as a dancer and choreographer at CRS/New Dance Works, FAR space, Fringe Festival, Dumbo Festival, Movement Research at the Judson Church, and at the Joyce SoHo. She is one of the original collaboratora of Agora II with Noémie Lafrance.
Maho Takeshita ( Dancer )
Maho Takeshita originally from Japan, graduated from the Limon Professional Studies Program in 2013, where she performed the works of Jose Limon and Alan Danielson. She has also assisted members of the Matthew Bourne Company at an international festival in 2013 and was a facilitator for children at a Communication and Dance workshop in Japan in 2014. Maho is currently dancing for Kaoru Ikeda/MoustacheCat Dance and Chris Ferris & Dancers.
Sarah Bolander ( Performer )
Sarah Bolander was born in Fukuoka, Japan and was raised in Davis, California. After graduating from Cornell University with a minor in Dance in 2015, she moved to NYC. Sarah is currently dancing with Kaoru Ikeda/MoustacheCat Dance and Salvatore LaRussa Dance Theatre and has worked with Kelley Donovan and Dancers in the past.